Sponsored by: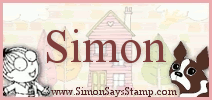 Happy Monday, blog friends! It's 5:30 AM as I write this, and the coffee hasn't kicked in, so please forgive all typos and bizarre syntax. :-)
I had so much fun revisiting that classic "12 Tags of Christmas" technique last week, I just couldn't help but do it again. Tis the season, right? This week, it's all about Perfect Pearls mist, masking and (of course!) grungy fun DELUXE! Let's hop in the WayBack Machine and set the dial to:
Please click here for a list of the products I used.
You're not required to do a holiday-themed piece, by the way.
The awesome folks at
Simon Says Stamp
are sponsoring this challenge and will be giving a $25 shopping spree to their amazing online shop to one lucky participant! To be eligible to win, just create your work of art based on Tim's tutorial. Remember, this is all about taking the techniques and making them your own, so use whatever imagery, colors and theme you're drawn to. When you're ready, upload your finished piece to your own blog or public image-hosting site, then add it to this post using the InLinkz link below. Please remember to include a link to Tim's tutorial in your post.
The winner of the challenge will be posted on the Simon Says Stamp blog early next week!
Remember to share your photo at the
All Things Tim
group, too! Lovely List Mom, Gloria, has a special album just for your Grungy Monday masterpieces! If you're not already a member of this talented, supportive group of Tim fans, be sure to join!
And with that, I'm crossing my fingers that my spotty internet connection holds long enough for this to post, and will look forward to seeing your amazing Grungy Monday art! I hope you all have a magical week!
Hugs,
Linda
__________________________